Introduction
High quality imaging meets single-use efficiency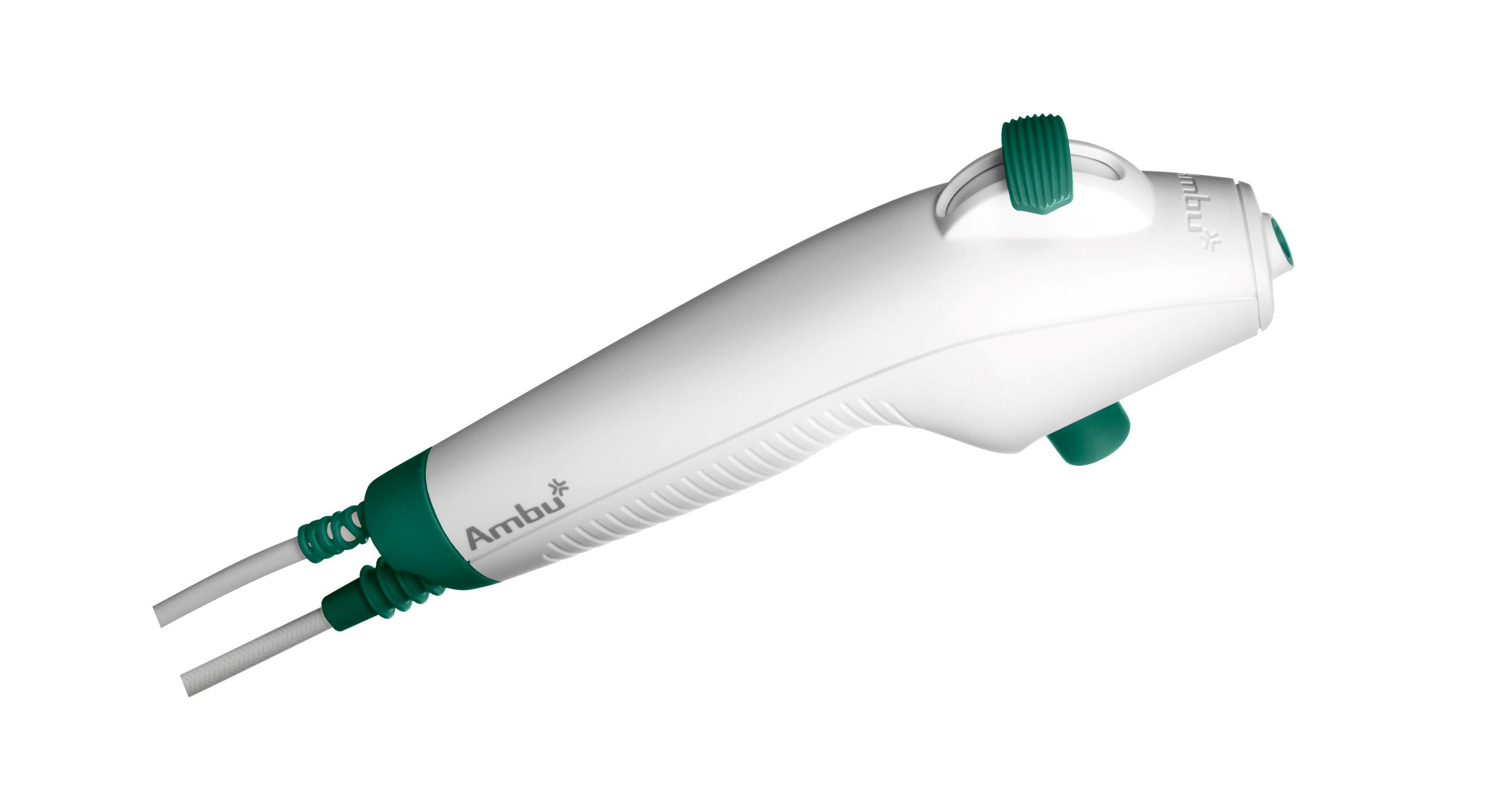 Working channels present particular problems when it comes to cleaning reusable scopes. These scopes require full reprocessing, and effective disinfection is complicated by their long, narrow lumens and delicate materials. Even the most stringent cleaning procedures do not guarantee the complete removal of biofilm from a reusable scope.
Sterile straight from the pack, single-use aScope 4 RhinoLaryngo Intervention ensures patient safety by eliminating the risk of device-related cross-contamination. It is always available and simplifies your workflow as there are no repairs and no costly and time-consuming cleaning tasks.
The lightweight, aScope 4 RhinoLaryngo Intervention has a 5.0 mm outer diameter and a 2.2 mm working channel. It connects to the portable, high-resolution Ambu® aView™ monitor and delivers clear, sharp images of the upper airway, enabling easy navigation and identification of anatomical structures.
Together with the single-use Ambu® aScope™ 4 RhinoLaryngo Slim and Ambu® aView™ monitor it offers a complete endoscope solution for ENT.
Release information:
aScope 4 RhinoLaryngo Intervention is not available for sale in all countries. Please contact your local Ambu sales representative.
Key Benefits
Experience the single-use efficiency
Introducing aScope 4 RhinoLaryngo
A deeper look at aScope 4 RhinoLaryngo Intervention
With its 2.2 mm working channel, the aScope 4 RhinoLaryngo Intervention is designed for examinations such as biopsies, foreign body removal and suctioning procedures. Its precise tip motion and 130-degree bending angle support easy manoeuvrability and navigation in the upper airway. The Intervention scope has a length of 350 mm and an outer diameter of 5.0 mm.
And no matter how many procedures you do each day, aScope 4 RhinoLaryngo is always comfortable to hold thanks to its lightweight design and ergonomic grip.
aScope 4 RhinoLaryngo Intervention connects to Ambu® aView™, our high-resolution, portable and intuitive video monitor, and supports training, knowledge sharing and patient involvement.
The compact aView monitor fits easily into small spaces. It can be quickly mounted on an IV pole or transported by hand for additional convenience.
Technical specifications
Bending capabilities
130° up, 130° down
Insertion cord diameter
5.0 mm
Distal end diameter
5.5 mm
Working length
350 mm
Channel average inner diameter
2.2 mm
Spareparts
There are no spareparts or accessories for this product.
October 2018
Note: US: Rx only